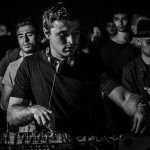 This year has proven to be remarkable for Damien Fisher. Released bunch of great music, been featured on various platforms and charts, supported by major acts. He also had his hard work payed off on Oculus Records which he is running, as well as Invade Sessions Podcast series that attracts well-known names.
In the end of the year Damien debuts on Plazma with his 'Me and My Shadow' album. Followed by Elmar Strathe and Ian Cris remix tracks. All of them creates mesmerizing adventure filled with our beloved Minimal Techno vibe, dark undertones and a whole labyrinth of atmospheres. Elmar's part will surprise you, as it is a track that exposes a lot of pressure. Ian Cris dealed with the task greatly, hits the right amount of tempo and seduces to dance. With this album we gathered our favorites for one goal – surprise our listeners. Album will be out soon, last touches required to wrap everything to a perfection. Keep your head up!
In the meantime, catch up with Damien's guest mix he did for us back in sunny July. It was ranked 87th in the Minimal Techno chart at Mixcloud. Download and track list are available here. Besides, this summer we had a chance to meet Damien in person, here in London. Unfortunately, our sound system had to be shut down by complaining neighbours.. Until next time.
So, we proudly present you our latest release available from December 4th:
Get connected and stay up to date at our Facebook, Instagram or Soundcloud page.