Presenting you 59th album, debut one on Plazma Records – Black Wood by Overheads. This producer duo was on the spotlight for some time and suddenly he's here with this incredible music.
Album contains four tracks, two of which is original work called Black Wood and Guitar Hero, followed by remix tracks from Josh Vincenzo and Dustin Holtsberry. I'm sure you'll find it quite dizzy and you won't get enough, take a closer look.
It will be available worldwide online 11th of June.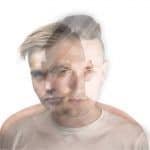 Overheads is a duo of two artists from Russia and Slovenia – Lie2You and Malek Ales. They work on tracks under ping-pong style, exchanging projects remotely. Unique and passionate underground producers are making their way into the scene with a blast.
And we are delighted to bring you this hypnotic and mysterious minimal album. Overtaking you with deep bass and underwater drops, building you up with sensitive sound palette towards cosy techno swamp hut.
Italian blooded Newcastle native Josh Vincenzo has an undeniable and passionate love for everything about techno. His resilient approach to DJ'ing, over the years, has earned him a strong reputation within the London night scene and aside Josh has an ever growing catalogue of productions which has seen him release on top labels with scene veteran producers.
He has with precision developed his own sonic signature. A master of high energy and big room sounds delivers action and entertainment for audience of the night.
Dustin Holtsberry is hard at work shaping and defining the signature sound emerging from the high desert Borderlands of the American Southwest. Born and raised in Las Cruces, New Mexico.
Holtsberry's rough, groovy, rolling minimal/techno holds within a dark and danceable bent. His tracks are full of ecstatic, soaring peaks and plunging lows, held together by round, punchy snares.