Pioneer DJ (formerly Pioneer Pro DJ) is a brand of Pioneer Corporation that represents the company's range of DJ products. The Pioneer DJ product range comprises DJ mixers, decks, headphones, effects units, all-in-one consoles, DJ software controllers, monitor speakers, and various accessories for music performance. The current professional-grade CDJ-2000 Nexus 2 decks and DJM-900 Nexus 2 mixer can be seen in DJ booths all over the world. Let's see how fast DJM-V10 will become a standard in today's clubs. The unit comes at $3,199 or £2,450 in February.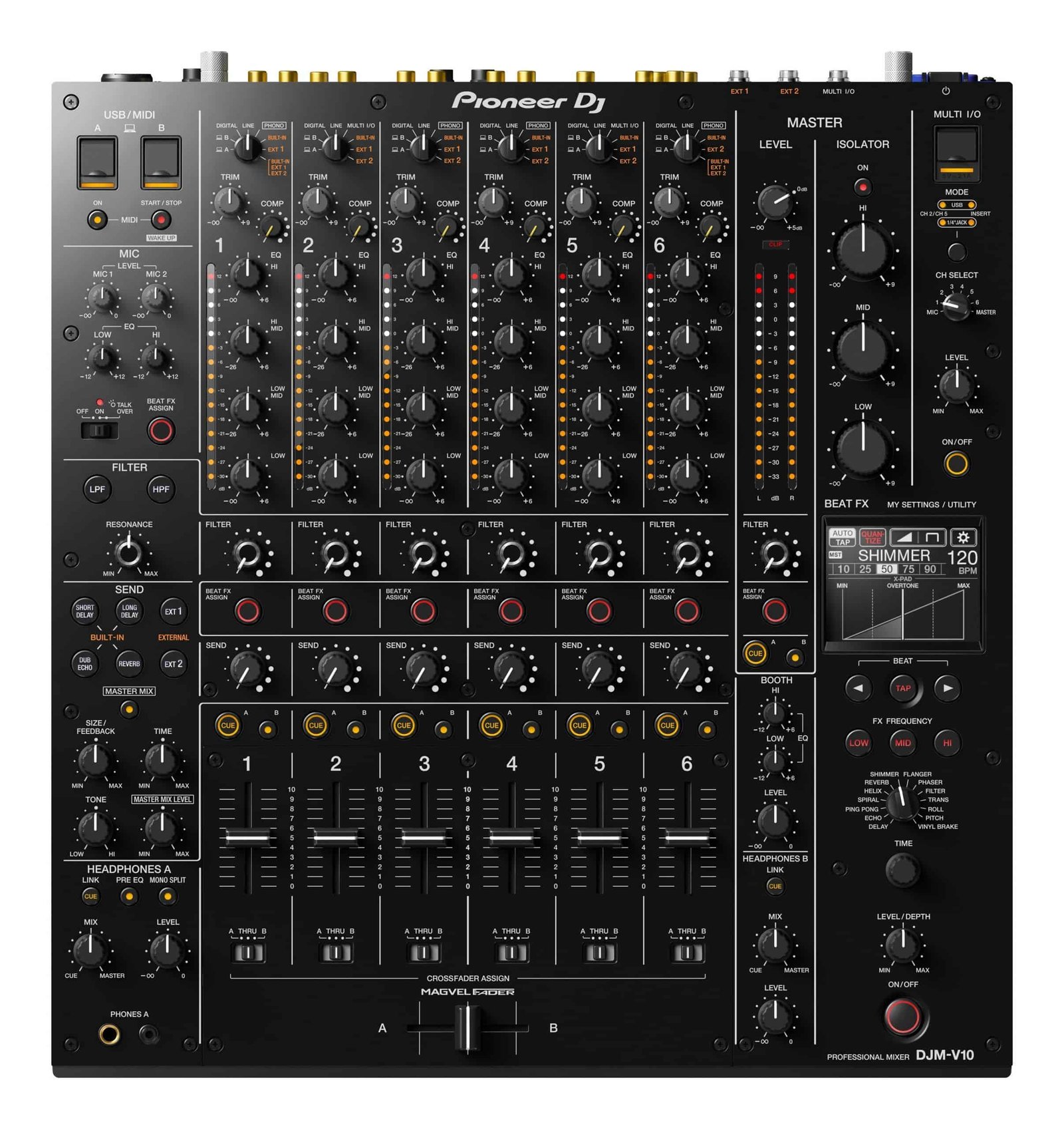 With 64-bit mixing and dithering, 32-bit analog-to-digital converters and low-jitter clocking, the DJM-V10 promises high-end sound quality. Unlike other Pioneer mixers, the DJM-V10 has a four-band EQ, similar to Allen & Heath Xone and Play Differently Model 1 range, doubling up on the mid with a Mid-Lo and Mid-Hi band per channel. Also a built-in compressor for fine-tuning the levels between different sound sources. Another new feature for Pioneer is the three-band master isolator, which is something more regularly seen on rotary mixers. Featuring six channels, new FX and filters, a compressor on every channel, and the ability to re-route effects internally Pioneer has it's new flagship mixer.

Drastically change the sound of a track, or subtly tweak it, using the newly developed filter with resonance control. Switch on high or low pass by pressing either button, then turn the knob from all the way to the left (no filter applied) to the furthest position on the right (maximum filter applied). Because high and low pass are separated you have twice the resolution to play with compared to the filter on the DJM-900NXS2, allowing for more pronounced adjustments. Send audio to one of four built-in FX and up to two pieces of external equipment to create unique sounds and even live remixes. You can connect guitar pedals, FX units, and more to the TS jack send/return terminals.
With a 96 kHz/24-bit sound card, you can input and output up to 6 stereo channels without any deterioration of sound quality when connected to a PC/Mac. The input and output of the send and master signals, as well as the input and output of individual channels, can be routed via USB to your computer. Enjoy smooth DJ handovers by simultaneously connecting 2 laptops (PC/Mac). A 32-bit SABRE 8-channel DAC (ESS Technology's ES9016S) is used for both the master and booth outputs. The DAC output is driven in parallel to further improve S/N. To maximize the DAC's capability, we've honed the output circuit by improving operation amps and capacitors and performing optimal tuning. This results in a sound that's low-noise, high-resolution, and easy to listen to – even at high volume.
Sculpt your sound just the way you like it. The frequencies, curves, boost and cut amounts on each band have all been specially designed to give you total flexibility. Completely isolate the high and/or low and tweak the two mid ranges – which have their own custom curves – to fine-tune your mix. Each channel is equipped with a newly developed, precise fader that enables fine adjustment. Highly stable and durable, they'll still feel smooth even after years of use. The DJM-V10 allows you to seamlessly play old or unreleased tracks alongside modern compressed productions. Turn the compressor knob on the relevant channel and the mixer will "beef up" the audio in real time. The quieter the track, the more pressure is added, boosting the sound of "weaker" tracks while having a minimal effect on mastered music.
Channels – 6
Filter – HPF; LPF
Sends – Short Delay; Long Delay; Dub Echo; Reverb; 2 Externals (1/4-inch TS jack)
Multi I/O – 1/4-inch jack; USB (Type A)
Beat FX – Delay; Echo; Ping Pong; Spiral; Helix; Reverb; Shimmer; Flanger; Phaser; Filter; Trans; Roll; Pitch; Vinyl Brake
Inputs – 6x Digital (Coaxial); 6x Line (RCA); 4x Phono (RCA)
Send/Return – 3x Send (1/4-inch TS jack); 3x Return (1/4-inch TS jack)
USB – 2x USB B ports; 1x USB A port
Outputs – 2x Master (XLR, RCA); 1x Booth (1/4 inch TRS Jack); 4x Headphone Monitor (1/4 inch Jack, Mini-Jack); 1x Rec Out (RCA); 1x Digital (AES/EBU); 1x MIDI (DIN)
Width – 437.6 mm
Height – 107.9 mm
Depth – 467 mm
Weight – 11.9 kg
Frequency Range – 20 – 40000 Hz
Sampling Rate – 96 kHz
A/D Converter – 32 bit
D/A Converter – 32 bit
S/N Ratio Line – 105 dB
S/N Ratio Phono – 88 dB
S/N Ratio Mic – 79 dB
Distortion – < 0.005 % (LINE)