Biography
Karim Alkhayat is techno music producer and DJ from Syria, now based in Dubai, United Arab Emirates. So far we have several music sides covered here – recently released an album with him called 'It's Time' that includes four original tracks. They cover sturdy bass lines and tight rhythms, wrapped up with sounds reminding progressive and electronica nights. This album was highly supported by likes of Brian Gros, Optimuss, Nenat Omen, Maya and many more. As soon as it got released album stayed in Beatport TOP 100 charts such as Techno releases position #4 and overall releases position #16 for few weeks, also it was included in Hype Chart and has been ranked Plazma's Top 10 label chart position #6. Karim confidently debut with the label after his demo reached out our email. It took us an evening to welcome him to join Plazma Records. See our conversation and some music alongside during our conversation with Karim.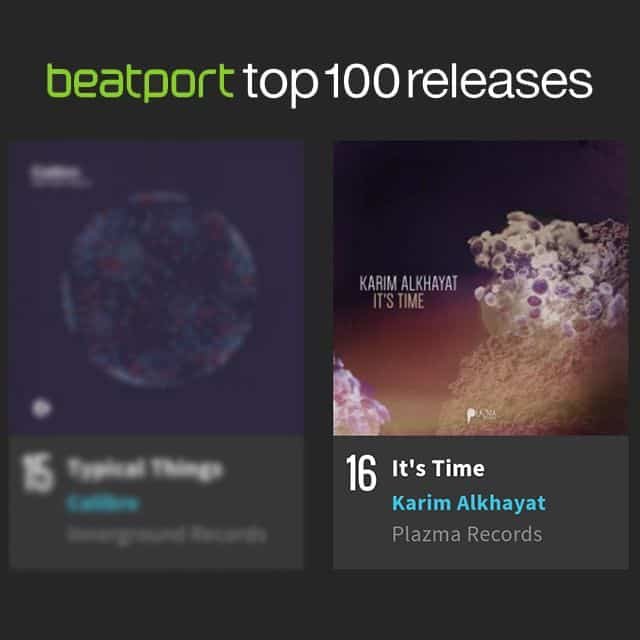 What did you want to be when you were a child?
I always wanted to be a musician, I started learning the piano, then switched to violin but then I stopped and got back to learning electric guitar when I was 17 years old.
When and where were you when you discovered what you wanted to do / what you do now in terms of music?
December 2017, when i was moving from Dubai to Kuwait. Stayed there until May 2018, came back to Dubai and that's where I really started to do what I am doing now.
What does success mean to you?
Well I guess what success means is to achieve your gaols in the first place.
Who or what inspires you to do what you do? People who you look up to?
When I lived for a short period in Kuwait, I met someone who pushed me to the right direction. Special thanks to Kade B a Dj and Producer based in Kuwait.
What is the biggest challenge/sacrifice you have made or have to make in doing what you do?
I had to quit my full time job as an architect.
Your professional or personal motto? Quote or a saying that inspires and motivates?
Someone's opinion of you does not have to become your reality.
What would you like to achieve during this year, what is ahead in 2020?
I had a goal when this year stared, and that goal was to release 5 – 6 EP in 2019 and now we are in July and I had released two and have other five signed and will be released later this year. 2020 I would probably be focusing a bit more on playing gigs, events and festivals.
We really enjoyed your recent podcast on Plazma Records, can you tell us what was your inspiration and where, which equipment was chosen to recorded it and how you worked out the selection of music?
I think the inspiration came from a track I was listening to it a lot which has a great dynamic, and then started to look for tracks that serve this dynamic that I was trying to achieve. About the equipment – I usually use when I'm recording a set is Traktor Kontrol x1 and Allen & Heath DB4 mixer.
You have also just released four track EP with us. What can you tell us about the inspiration and production behind both tunes, up and down sides?
It all started when bought my Roland system 1 synth, as any new gear I get I always keep messing around with it until I figure out everything. Then I came out with the sound that helped me create the main melody in the track DNA and from there it just kept going.
In terms of gigs, what is planned in the coming months, where and which gig of yours was latest?
I'm working on hosting my own monthly event, hopefully starting on October and we are calling it Rave Movement the idea of this event is to introduce proper techno to Dubai.
How do you usually prepare before a gig? How much space do you leave for improvisation in your sets?
I would say that I usually prepare 70 – 75 % and improvise the rest.
Tell us where you come from and what type of electronic/underground music scene your city has?
I'm originally from Syria but I have been living in Dubai for the past 7 years now. Unfortunately Dubai does not have the techno. Usually it's deep house, progressive house and melodic techno is what you can find in Dubai's underground scene.
What do you think makes a great DJ?
The ability to give the audience a new unique experience.
Who are your biggest influences in electronic music right now?
Boris Brejcha has always been an influence. Also Lampe, Maksim Dark, Cosmic Boys.
Aside from music, what do you like to do in your free time?
TV series, video games and hanging out with friends.
Can you finish this sentence, "Music is …" ?
Music is a therapy.
Get in touch
Karim Alkhayat
DJ / Producer (Minimal and Techno)
Bookings & Management: info@plazmarec.com